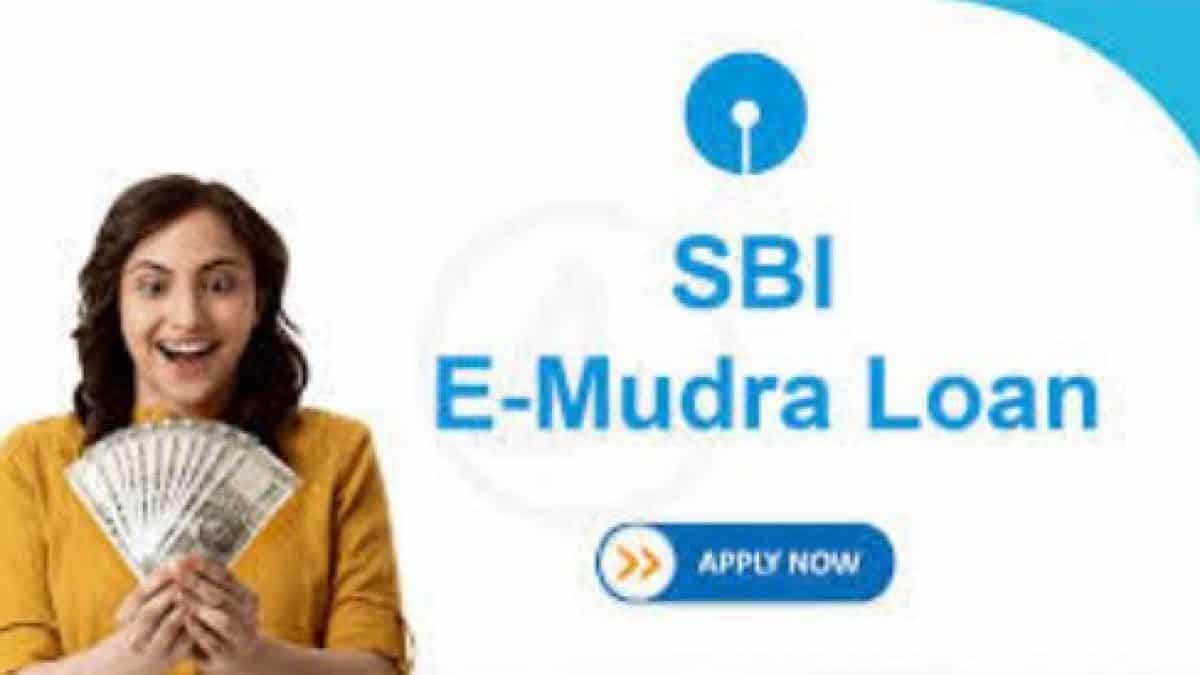 e-mudra loan is an online Mudra loan scheme that is running by the State Bank of India. Under that scheme, you can apply for a Mudra Loan Online via the State Bank of India Official e mudra website. It is a convenient and hassle-free process to get e mudra loan. For e mudra loan, no need to visit the bank branch and the amount will credit instantly to your existing account.

Now govt has changed the mudra policy and now people can apply for double e-mudra loans online.
Know e mudra procedure in English | Hindi/हिंदी
What is a procedure to apply e mudra?
There is not standard procedure to apply e mudra loan. Any Indian citizen can apply for mudra loan online.
Which documents require for it?
For e mudra application you require your Aadhaar Card which should be linked with your state bank of India account and your existing phone number where you will get OTP.
Age of applicant in e mudra scheme?
There is no age limit to apply e mdura loan. Anyone can apply e-mudra with valid documents.
Is e mudra available offline?
Yes, e mudra loan is also available offline via SBI branches. You can apply e mudra at any branch of State bank of India, SBI.
How can apply SBI e mudra?
SBI has provided a facility to apply e mudra loan website via SBI official e mudra website or mudrabank.com and you can visit at nearest SBI branch to apply e mudra loan offline.
State bank of India has launched an official website to apply emudra loan online via https://emudra.sbi.co.in:8044. Here you will get all details related to online mudra loan.
We suggest you to read all terms & condition before apply. Click here to read all instructions.
What is the Interest rate of e mudra loan?
The standard MSME loan rate is applicable on e mudra loan. It is fluctuate according to market. Currently 11.50% applicable on e mudra scheme.
How can I calculate the interest rate of e mudra loan?
SBI has launched an interest calculator online to check the interest rate and EMI. Pls click here to know interest rate and EMI.
Please note that the Interest & EMI may vary according to interest rate because it is floating. Click here to calculate EMI & Interest.
What is the repayment period of mudra loan?
WC/TL: in 3 – 5 yrs including a moratorium of upto 6 months depending on the activity/ income generation.
Review of WC/TL to be done annually.
How much margin money require for e mudra?
State  Bank of India, SBI require 0% margin money up to 50,000 loan (Shishu Category) and above 50,001 to 10, 00,000 (Kishore & Tarun scheme) they require minimum 10% as margin money.
How much SBI is charging processing fee for e mudra/ mudra loan?
In e  mudra scheme state bank of India is not charging any processing fee under Shishu and Kishore category but under Tarun from 5,00,001 to 10,00,000 they are charging 0.50% + tax as processing charges.
To know the procedure in English | Hindi/हिंदी
What is E Mudra loan approval time?
Under e mudra scheme the SBI releases instant money under the e-mudra Shishu category and under Tarun & Kishore it takes up to 60 days to clear.
How many banks are offering e-mudra loans?
Only SBI is offering e mudra loan online and other banks have a facility to apply mudra loan online but they are collecting the data and calling offline for mudra loan. Click here to get list of banks offering online mudra loan.
Where can I compliant or contact for e-mudra?
e-mudra is available for all Indian citizens and if you feel that bank is harassing or asking something to clear Mudra loan.
You can directly file a complaint to the Grievance department of concern bank, the Financial inclusion team of GOI, Public Grievance portal of PMO or write us on pg (at) janpaksh.com. 
We will forward your complaint to concerned officials for immediate action. All facility is free
Please note that the entire process is free and if someone asks to pay money, please report to concerned authority or us. You can register your complaint at bank's portal. Now govt has issued a new policy for emudra loan Click here to get link of PG portal of all banks.
Recently State bank of India has doubled the e-mudra amount earlier it was 50k but this year SBI is providing double e-mudra amount. Now you can get e-mudra loan upto 100k online.
Frequently Asked Questions:-
✔ How can apply e-mudra loan?
Several banks are providing online e-mudra loan facility. It is very easy and faster. Click here to apply e-mudra online.
✔ What is the Age limit for e-mudra loan?
There is no maximum age limit for e-mudra loan but the minimum age for mudra loan is 18 years.
✔ Can we apply e-mudra via mobile?
Yes, you can apply e-mudra loan via mobile but the process and policy for e-mudra loan will be same.
✔ Who is providing e-mudra loan?
Mostly all banks are providing e-Mudra via its website. You can apply mudra loan online.
✔ List of documents require for e mudra loan?
Bank require only few documents like Aadhaar Card, PAN Card, Authorized mobile no etc. If you have same bank account, you never need any KYC but you should have authorized mobile number to apply.
Limit of SBI e mudra loan?
State Bank of India has incresed the online mudra loan amount from 50k to 100k. Now you can apply upto 100K online.