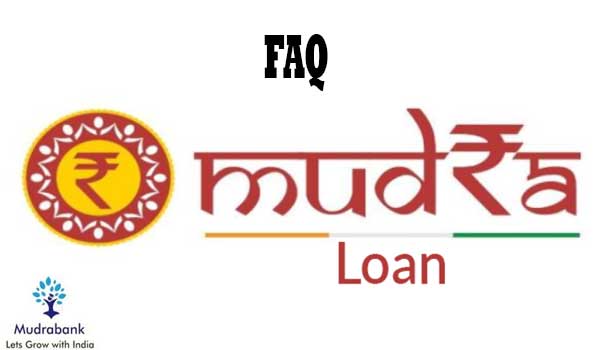 FAQ
What is MUDRA bank?
Micro Units Development and Refinance Agency Bank (or MUDRA Bank) is a public sector financial institution in India headed by Small Industries Development Bank of India (SIDBI). It provides a loan to micro-finance institutions and non-banking financial institutions which provide credit to MSMEs. It was launched by PM Narendra Modi on 8 April 2015.
Mudra Bank has launched three loan schemes 1. Shishu Loan   2. Kishor Loan   3.  Tarun Loan.
Mudra loan is a collateral free loan & there is no need of any guarantee.
In Frequently Asked Question area we will share the information about the mudra loan process, rate, criteria. We are also providing the platform to ask Frequently Asked Question.
Who can apply for Mudra Loan?
Any Indian resident who wishes to start a business can apply for Mudra loan.
Where can apply for Mudra Loan?
You can apply for mudra loan at any bank branch in India. For more details, you can visit Mudra Bank website or click here
What kind of documents requires f0r Mudra Loan?
Mudra Bank has launched three schemes Shishu, Kishore & Tarun. In Shishu Loan Scheme only basic documents require for mudra bank loan like Address proof, ID proof, bank details, PAN Card etc. More details please click here
How can I check that I am eligible for Mudra Loan?
Mudra loan scheme is open for all Indian Citizens & anyone can apply for Mudra loan but the banks have rights to deny on few bases like your previous financial record & CIBIL record etc. Check your eligibility, please click here
We wish to clarify that there is not standard procedure to check your Mudra loan application status because there is several private and public banks are involved in mudra loan scheme & according to banking policy they never share loan application status. You can visit your base branch to know mudra loan status. Please check our status page for the latest update on Mudra Lona Status.
Our bank branch is not providing Mudra Loan Form, what should I Do?
If your bank is not providing mudra loan scheme from your can download it from the bank's website or visit www.mudrabank.com to download it. You can visit our application form page to get mudra Shishu loan. Click here to download Mudra loan form.
What is jan dhan yojana loan for business?
Jan Dhan Yojana loan or Mudra loan of PMMY is a similar term. The Jan Dhan Yojana schemes had launched for business prepose only. Under all three schemes ie Shishu, Kishore & Tarun you can apply loan for business only.
Is Mudra loan for chartered accountants?
Chartered accountancy is kind a services and as per the guidelines the mudra loan is available for services industries. Chartered Accountant may apply or counsult his/her client for Mudra loan. If it is an e-mudra he/she can apply emudra loan online behalf of his/her client. Click here to apply e-mudra online.
Mudra loan facility is also available offline for all chartered accountants & services providers. You can apply mudra loan for own or behalf of your clients. Click here to know more details and download mudra loan application form.
Is Mudra loan available for franchise?
Franchisee business is most popular & established business in the world and most of the people want to invest in franchise business to grow business rapidly. Franchise business is secure & less effort business because of the popularity of product & branding.
Mudra bank is also offering mudra loan for franchise business. You can apply mudra loan for your franchise startups. This kind of loan is available only on offline mode. If you wish to apply mudra loan for new franchise, you have to visit bank branch for it. Click here to download application form & other information.
Is Mudra loan for startup business?
In current scenario every one wish to start his business and after govt. Policy that sector has boomed up. Several new & young enterprisers want to start its new ventures as startups. Central government is providing several benefits to startups. Mudra Bank is also offering Mudra loan to startups at attractive interest rates.
That kind of loan is available offline via banks. There is few small procedure & compliance for startups which need to fulfill before apply. Click here to know the entire procedure & application form.
Is Bajaj Finance is providing mudra loan?
Bajaj Finance Limited or Bajaj Finserv Limited is a company which is offering all kinds of loan in different segments like MSME, vehicle loan, Home Appliances, Home loan, startups etc. According to Mudra Nodal Agency they are not authorized for Mudra loan Schemes but the plan, package & interest rate of MSME loan of Bajaj Finserve is also attractive and you can approach them.
MSME loan process of Bajaj Finance is really hassle free & fast rather to other agencies. Click here to apply MSME/Mudra Loan from Bajaj Finance.
Click here to download mudra offering bank list
Is Mudra Loan available for dental clinic?
Yes, you can apply Mudra Loan for your Dental & other type of services. Under Mudra loan scheme you can get loan up to 10,00,000.
Is mudra loan available for education?
Unfortunately mudra schemes had launch for uplift the people through collateral free schemes. There is no procedure to get education loan, personal loan, car loan, house loan etc. It is purely business loan. Please click here to apply education or personal loan.
How can I open mudra bank account online?
Mudra loan is a scheme where you can apply business loan where the loan amount will disburse in you existing or new account. There is no facility or procedure to open mudra bank account online. You can apply SBI e mudra loan online. Click here to apply SBI emudra online.
Mudra loan for restaurant is available?
Yes, Mudra bank is providing mudra loan for restaurant & food related services. If you are planning to get mudra loan for restaurant business, you have to prepare your project report with total investment & your contribution details.
All banks are providing mudra loan for restaurant & food related business.
In that section we have tried to attend all kind of FAQ so that your all queries related to FAQ can resolve here. If you have any other FAQ apart that, please write your FAQ here. We will share it with all.