How to apply SBI SVANidhi Loan Online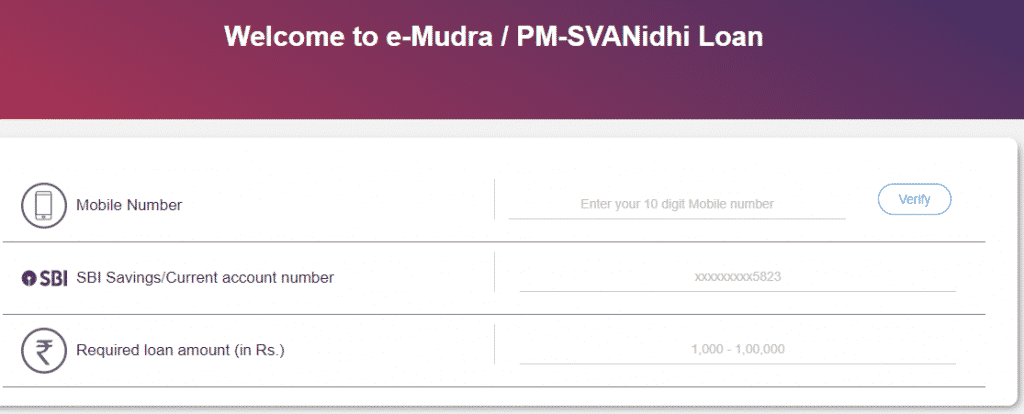 State Bank of India has launched a new online scheme for the PM-SVAnidhi loan which is equal to e mudra loan and available online. It will disburse immediately in your state bank of India account.
For that scheme state bank of India has launched a new page which is mentioned at end of this page.
In SVAnidhi or e mudra loan, you must follow some basic producers to apply for a loan online.
Mobile No
In the mobile number section, you must enter the registered mobile number of your account. If you have registered your mobile number with your account. You are not able to apply for an SVANidhi-Loan / e Mudra loan.
Aadhaar Number for SBI SVANidhi
After entering the mobile number you will see that one Aadhaar No/ UID card field will be visible and one option will be visible that "Are you ready to share Aadhaar details?". Please enter "YES". See the image below.
After selecting the "YES" you will get a prompt like.

I submit my Aadhaar Number and voluntarily give me consent to:
User My Aadhaar Details to authenticate me from UIDAI.
User my Mobile No as entered the application for sending me SMS Alerts to me.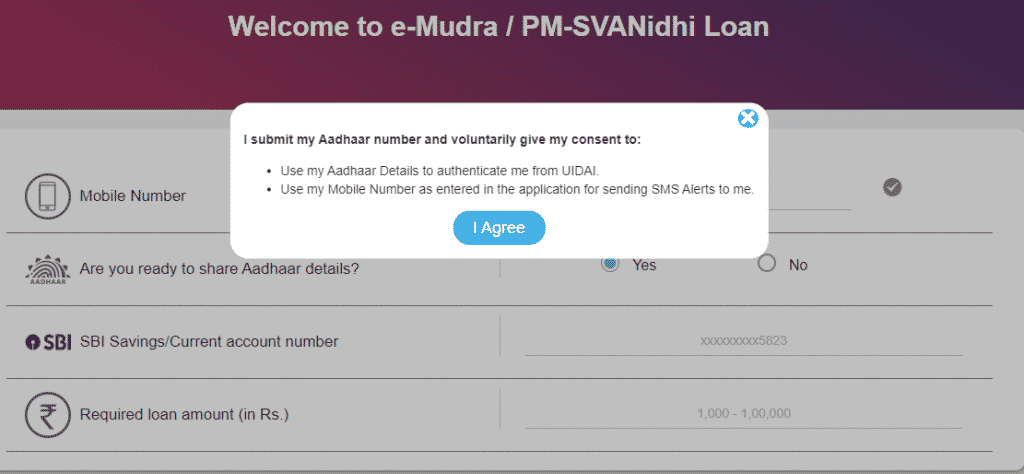 Just press agree and you will see an Aadhaar field to submit your Aadhaar number to apply for the SBI SVANidhi loan.
Account Number
After confirmation of OTP for an e mudra loan, you must enter your SBI account number where you will get the e-mudra loan amount.
Loan Amount
Now only the loan amount field will remain, here you can enter an amount between 1000 to 1,00,000. After entering the desired amount, press the proceeds button.

Wait for some time and you will see that one SMS will deliver to your mobile that such amount has been a credited to your SBI account under the Mudra loan scheme.
Govt of India has launched a portal to check PM SVANidhi loan status online. You log in on the PM SVANidhi portal and check your application status and on the same PM SVAnidhi website, you apply for the PM PMMY SVAnidhi loan online.
PM-SVANidhi loan is also available online and you can download form PM-SVANidhi application form online.
The SBI-SVANidhi loan is available online via the SBI portal and you can check the entire details of the SBI SVANidhi loan at the Urban development ministry. If you feel that banks are taking too much time to process your application. You can write directly to the bank authority with your concern.
Ministry of Urban Development is offering SBI SVANidhi loans for weaker and poor street vendors. In that category, the applicant gets a loan of up to 10,000/-.
Click here to get a PM SVANidhi loan online
What is SBI SVANIDHI Loan?
SVANIDHI is a loan category that is introduced by govt of India for weaker sections. In that scheme, any street vendor can get a loan without a guarantee.
SBI SVANIDHI Loan is available online?
Yes, the SBI SVANidhi loan is available online for all. You can apply for SBI SVANidhi loan online via
Mudra Bank.
What is the interest rate of the SBI SVANidhi loan?
SBI is charging 7% interest for the SBI PM SVANidhi loan.
What is the SBI SVANidhi loan amount?
The State Bank of India offers Rs. 10,000 under the SBI SVANidhi scheme via its portal.